2016 is set to be a big year for television, with a slew of wide-ranging new series headed our way. From the latest superhero titles from the CW and Netflix to Ryan Murphy's newest anthology series to another quirky comedy from FX, there seems to be something for everyone, no matter what your personal taste and preference is. But with so many options to choose from, it may be tricky figuring out which shows are actually worth checking out. Luckily, we're here to help narrow down your options. Below, check out the 10 most exciting new shows premiering in 2016 (listed chronologically).
Set in the Manhattan world of high finance, Showtime's
Billions
is described as a complex contemporary drama about power politics. The show will give viewers an insider's look at the industry of hedge funds and high finance by tracking the approaching collision between two giant power players — the brilliant, ambitious hedge fund king Bobby "Axe" Axelrod (played by Damian Lewis) and the aggressive, politically savvy U.S. Attorney Chuck Rhoades (Paul Giamatti). Between the strong cast and the network's stellar track record, this show is definitely one to look out for. The 12-episode freshman season will air on Sundays at 10 p.m. Eastern.

2. DC's Legends of Tomorrow, January 21
The CW's upcoming
Arrow
and
Flash
spin-off stars Arthur Darvill as Rip Hunter, who travels back in time to the present day where he brings together a team of heroes and villains in an attempt to prevent Vandal Savage from destroying the world and time itself. The superhero team-up show will include Victor Garber's Firestorm, Brandon Routh's The Atom, Caity Lotz's White Canary, Wentworth Miller's Captain Cold, Ciara Renee's Hawkgirl, and Falk Hentschel's Hawkman among others. The CW has done well with its comic-inspired shows so far, so hopefully this will live up to its predecessors. The series will air on Thursdays nights at 8 p.m. Eastern.
3. Baskets, January 21

et in Bakersfield, Calif., F.X.'s upcoming dark comedy stars Zach Galifanakis as Chip Baskets, a man who sets out on following his dream of becoming a professional clown. After failing to get a degree at a prestigious clowning school in Paris, he is stuck with a job at a local rodeo. The show, executive produced by Galifanakis and Louis C.K., looks to be just as surreal as it sounds at least, from the looks of the trailers. It will air on Thursday nights at 10 p.m. Eastern.
4. American Crime Story: The People v. O.J. Simpson, February 2
The first season of Ryan Murphy's upcoming true crime anthology series will chronicle the events surrounding the murder trial of O. J. Simpson. The show features a star-studded cast, including Cuba Gooding, Jr., as Simpson, Sarah Paulson as prosecutor Marcia Clark, John Travolta as Robert Shapiro, and David Schwimmer as Robert Kardashian. Courtney B. Vance, Nathan Lane, Jordana Brewster, Selma Blair, and Connie Britton also co-star. The show will air on FX on Tuesday nights at 10 p.m. Eastern.
Set in the 1970s,
Vinyl
stars Bobby Cannavale as Richie Finestra, a charismatic New Yorker and the president of the record label, American Century Music. The series explores the sex- and drug-fueled music business at the time of punk, hip-hop, and disco's breakout, all through the eyes of Richie, who is trying to save his company and his soul without destroying everyone in his path. The show features a star-studded ensemble cast, including Ray Romano as Richie's partner with a decade of music experience, Zak Yankovich, and Olivia Wilde, as Richie's actress-model wife, Devon. It also hails from a great creative team, with Martin Scorsese (who directed the pilot episode) on board as executive producer alongside Mick Jagger, Terence Winter, and Scorsese's manager, Rick Yorn. The 10-episode first season will air on Sunday nights at 9 p.m. Eastern on HBO.
Hulu is set to make its biggest splash yet with the upcoming miniseries based on the 2011 Stephen King novel. The forthcoming thriller series follows the story of a 10th grade high school English teacher Jake Epping who leads an ordinary life until he travels back in time to try and prevent the assassination of President John F. Kennedy. But his efforts to manipulate history are put into jeopardy by Lee Harvey Oswald and his own personal relationships, as well as the past itself which doesn't want to be changed. James Franco will star as Epping, while J.J. Abrams will produce. The eight-part series will be released on a weekly basis every Monday.
7. Marvel's Luke Cage, TBD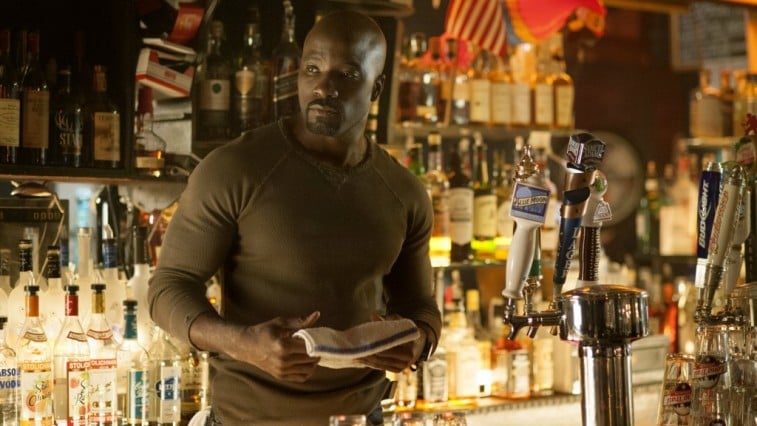 Netflix is two for two with its planned Marvel series so far. Both
Daredevil
and
Jessica Jones
earned high praise from critics and audiences alike, making us all the more excited for the next collaborative effort:
Luke Cage
. The upcoming comic-inspired series will star Mike Colter as the titular character, a wrongly accused man who gains super-strength after a sabotaged experiment and escapes prison to become a hero for hire. Colter's Cage already made his debut on Jessica Jones, but viewers can expect to learn a lot more about the specifics of his background (and his rebuilding efforts after the Kilgrave drama) in his upcoming solo series, which will debut later in 2016.

8. Outcast, TBD
Based on Robert Kirkman's comic series of the same name, the upcoming horror drama stars Patrick Fugit as Kyle Barnes , a man from a small town in West Virginia who has dealt with demonic possession his entire life. Barnes isolates himself in order to keep his loved ones safe and meets a young boy named Joshua Austin who is battling demons of his own. Philip Glenister also stars as Reverend Anderson, an alcoholic evangelist who pledges war against the supernatural. Kirkman, who also produces and writes
The Walking Dead
, will produce the series, which is expected to premiere sometime this year.
There's a lot to look forward to in HBO's upcoming adaptation of the 1973 film of the same name. Described as "a dark odyssey about the dawn of artificial consciousness and the future of sin," the show chronicles the story of a futuristic theme park called Westworld. It features a star-studded ensemble cast, including Anthony Hopkins, Ed Harris, Evan Rachel Wood, James Marsden, Thandie Newton, and Rodrigo Santoro among others. J.J Abrams will executive produce the series, which doesn't have a premiere date yet, but is expected to kick off in 2016.
Based on Garth Ennis's book of the same name, AMC's highly anticipated upcoming series will star Dominic Cooper as Jesse Custer, a small-town Texas preacher who becomes a supernatural creature and develops the ability to command anyone to do anything he wants. Left with this new power, he hits the road to find God, bringing his ex-girlfriend Tulip O'Hare (played by Ruth Negga) and the hard-drinking Irish vampire Cassidy (Joseph Gilgun) along for the ride. Meanwhile, the Saint of Killers, an immortal killer, trails them on their journey, with his sights set on Jesse. The trailer promised plenty of the dark humor and violence that the acclaimed original comics are famous for, so we're just counting down the days to the series premiere. The show is expected to debut sometime in mid-2016, although no exact date has been set yet.