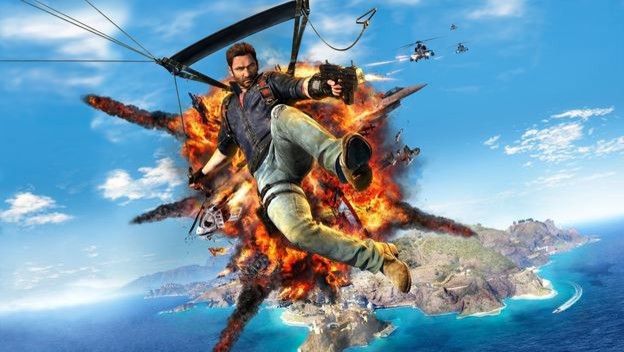 Just Cause 3
has finally made its explosive arrival with nearly 400 square miles of greatness to explore. That's a lot of area to cover, especially when Rico runs like an overweight chain-smoker. Seriously, this guy is slower than molasses with his one speed of angry jog. Thankfully the developers have implemented a new "rebel drop" spawning system that allows players to summon any unlocked air transportation vehicle. Good thing, too, because you're going to need it after reviewing our top ten best Easter Eggs contained within the game so far. Enjoy the scenic route, friends!
The Return of Mr. Snowman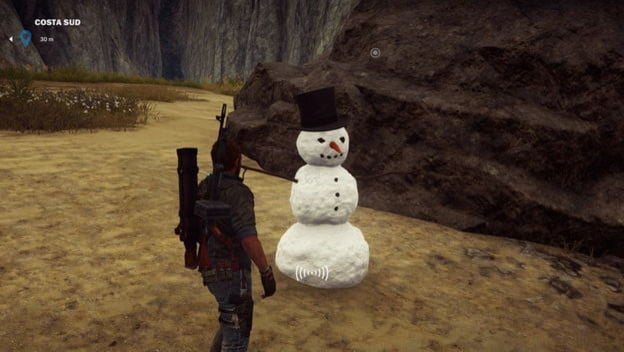 Located within the small inlet of the Costa Sud territory, the hilarious return of Mr. Snowman finds him relaxing on the beach near a massive boulder. The little guy looks rather comfortable despite the 90-degree weather and the presence of deadly saltwater just a few feet from him. Make sure you turn up your tv's volume when approaching Rico's oldest friend for the first time.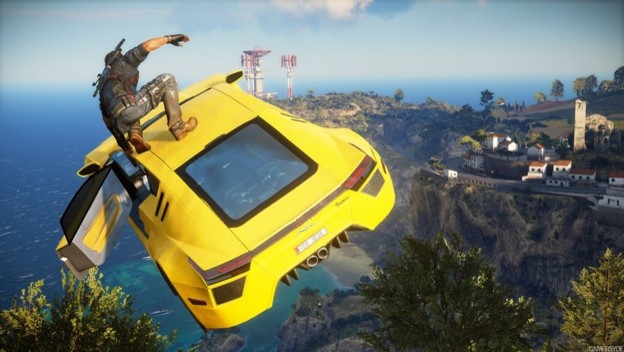 Racetrack Island, known formally as Boom Island, is one of the more modest Easter eggs, but nonetheless it's still pretty cool. First brought to light by Youtuber Alex from Arekkz Gaming, Racetrack island is essentialy a giant racetrack covering a tiny island off the coast of Soros. Players can use the rebel spawning system to conjure up some vehicles or simply use the buggies parked at just about every corner of the territory. This fun-filled island is located at coordinates N 40 38.372 E 5 35.340.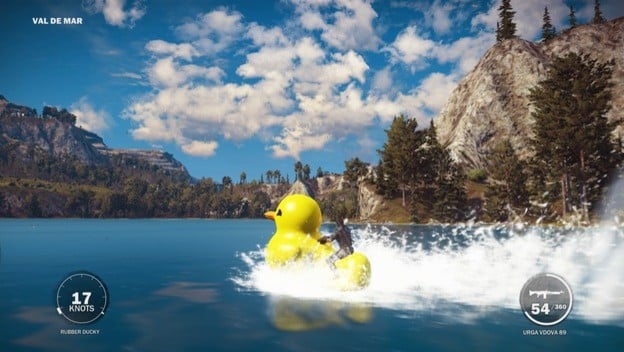 You can finally live out your childhood dream of riding a giant rubber ducky in
Just Cause 3
. In fact, the giant rubber ducky comes stocked with a jet ski motor so you can show off your new swag to unsuspecting militants. You can find the giant ducky within Val De Mar at coordinates N 40 46.342 E 5 42.767.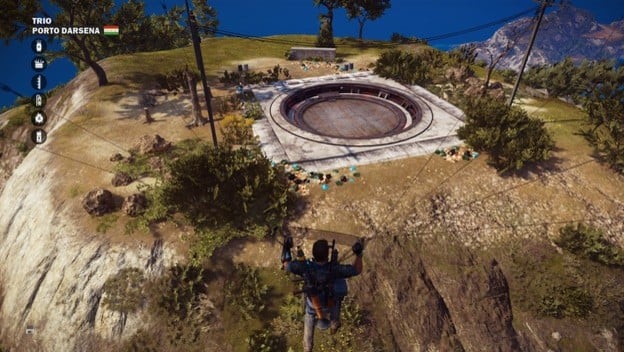 This giant
teleportation Easter egg is probably one of the most fun, as it will teleport you from one end of the map to the other, of course with a few surprises along the way. The portal is located in the Trio territory with exact coordinates of N 40 42.283 E 5 35.197. You will need to activate the four buttons with the correct combination (1, 4, 3, 4, 2, and 1) in order to activate the portal.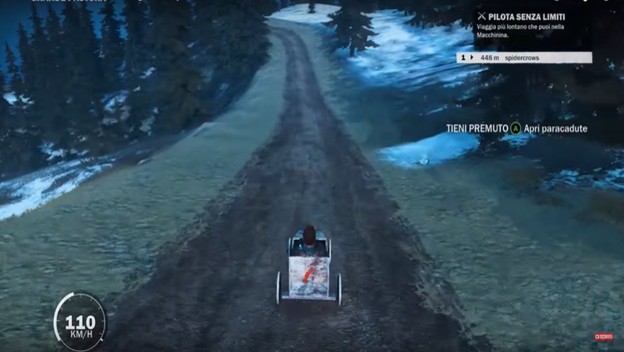 This little gem is located near the border of Grande Pasture and Montana with the exact coordinates of N 40 49.901 E 5 38.958. The soapbox car is deceiving at first because it looks like a rusty old asset prop. However, when you approach the car, Rico has the option of jumping in for some downhill fun. Be sure to ride the path all the way until the end for an awesome surprise.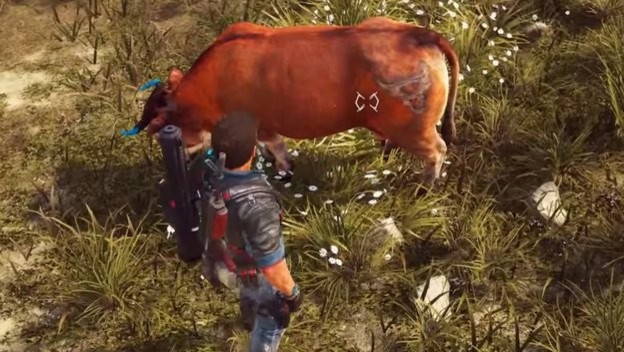 This Easter egg is exactly why we love Avalanche Studios so much, because who doesn't love riding angry bulls? The lost bull can be found within Maestrale at coordinates N 40 49.050 E 5 36.777. Make sure you don't grapple the bull or you will certainly have PETA calling your residence. Happy cowboying, folks!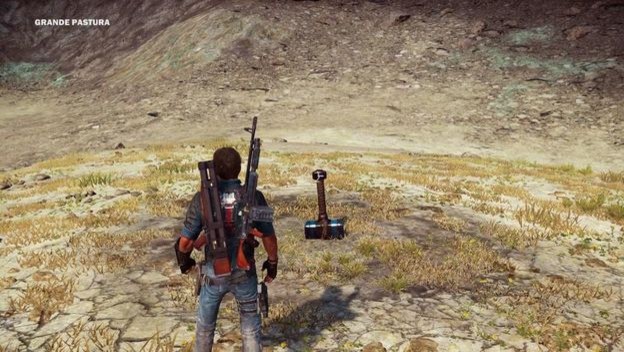 This one speaks to my inner comic book nerd and my allegiance to Marvel Comics in general. Players can actually see the location of where Thor last left his hammer. Well, not really, but we like to imagine it that way. You can find this epic hero's sidepiece at coordinates N 40 48.566 E 5 40.859 in southern Grande Pastura.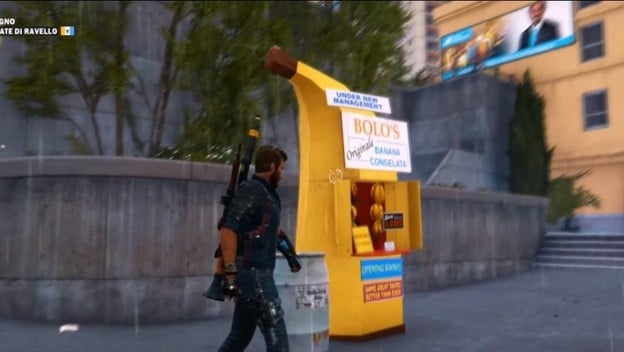 I don't exactly know why this one made it into my top ten list, let alone at number 3, but it just felt right. You will soon understand once you navigate over to this hilarious little shack. Located within Regno at N 40 44.147 E 5 38.452, Rico flips a lid when he finds out the tiny shop is closed and its owner is loitering inside. There's only one thing to do when a man wants his banana and the shop owner refuses service – explosive destruction.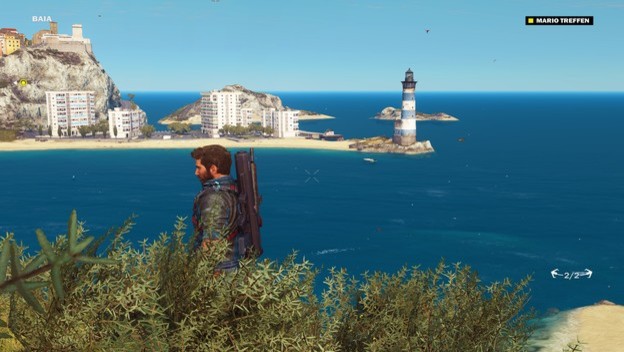 This one took some serious sleuthing in order to find because it's hidden pretty well. The secret lifeboat is located within the Capite Est at coordinates N 40 44.150 E 5 63.849. You'll need to navigate over to the set of tall white cylinders located near the dock. Place a GE 54 mine on the corner of the white cylinder, or use your grappler, and bust open the container. A huge yellow lifeboat will inflate and land perfectly in the water for your paddling amusement.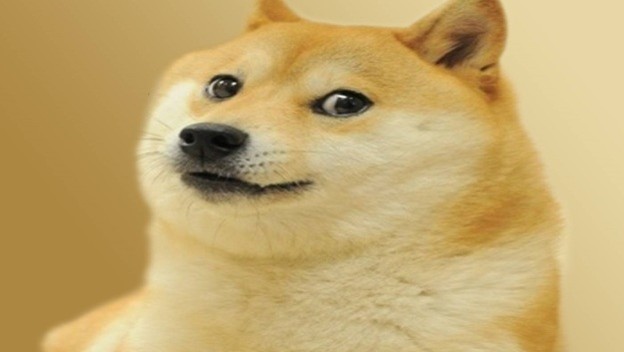 This is probably the best Easter Egg ever contained within a video in game in the history of forever. If you haven't been exposed to the "Doge" meme then you need to navigate your out-of-the-loop self over to Google and check it out. Anyway, the game mode populates "Doge" sayings as you wreak havoc on Medici. The game mode can be achieved by navigating to Massos at coordinates N 40 43.400 E 5 37.002 and entering the town of Soliana. You will need to navigate to the junkyard in order to find an adorable lost black puppy. Guide the puppy safely across the road to the dog kennel in order to unlock this epic game mode. To access the mode, press pause and head to the "Options" menu, then click "Gameplay" and toggle Doge mode on. Props again to Alex from Arekkz Gaming for discovering and detailing this one. Let us know what new Easter Eggs you find in the comments section below.